Yay, yay, yay!!!
I'm so super excited to be a part of this tour!!!
This is one of my all time favorite series;
I just CANNOT express to you how awesome these books are!!!
...but if you want to see me try, see my reviews here...
aaaaaannnnddd --since I was crazy lucky and got a way early copy of it --
Yes indeedy, I'm a lucky girl!
Sooooo.... Let me tell you a bit about DARKEST DAY.....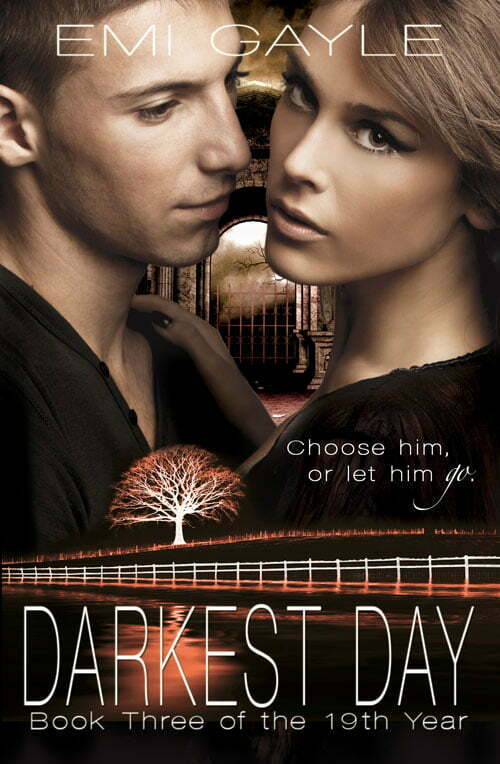 Darkest Day
The 19th Year
by Emi Gayle
Release Date:
January 6, 2014
Genre: Young Adult
Paranormal Romance
GET YOUR VERY OWN COPY:
Amazon
or
Barnes & Noble
ADD IT TO YOUR GOODREADS TBR HERE!
Mac Thorne's time as a Changeling is coming to an end.
It may have taken eighteen years, but Mac did finally manage to do what the Council wanted: she chose a teacher and renounced the in-between.
There's just one last step. She must say goodbye to her human. Forever.
After being challenged in every way possible, Mac leaves what she thought would be the easiest task for the last possible moment. As midnight on July fourth draws near, though, she hasn't found a way to give up Winn Thomas.
With time running out, Mac stands at a literal crossroads.
Choose Winn, and she'll be stripped of the only family she's ever known—vampires, dragons, and her favorite demon. Even her own mother. Accept her position on the Council and rule as an equal to her twelve peers, and she'll forget Winn ever existed.
Independence and freedom have never before been so limiting.
In this final chapter of the 19th Year Trilogy, it's time for Mac to decide.
Awesomesauce, right?!?! **fangirl squeal**
So we've got lots of fun for you today starting with a little insight into one of everyone's fav character, Suze. It's his top ten list of superheroes he wishes he could be....
10 Captain America
9 Wolverine
8 Sonic the Hedgehog
7 Energizer Bunny
6 The Green Lantern
5 Batman
4 Thor
3 Spiderman
2 Superman
1 Iron Man
Tee hee hee! I heart me some Iron Man ... and some Suze!!!
Be looking for an upcoming novella starting Suze (oh and it's sooo good!!!).
Now you know that Mac has some big decisions to make. Any ideas or guesses?
Stop by here and weigh in.
Ready for the giveaway??? it's a good one :)