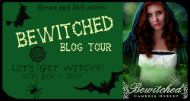 So I'm super stoked to have the wonderful, crazy and amazingly talented author, Cambria Hebert, here on my blog today. We are celebrating the release of the spooktastic short story Bewitched, the latest in the Heven & Hell franchise.
Let me start by introducing you to the lady of the hour, Cambria Hebert:
Author. Blogger. Latte Sipper. Cambria Hebert is an author who wrote her first book at the age of fifteen. It was terrible. But the passion for writing never went away so years later when she opened her laptop and started typing she worked until she wrote a book that she hopes everyone will be as excited about as she is.


Cambria is obsessed with werewolves and is terrified of chickens (they about re creepy!)She is an animal lover that would choose coffee over food and her favorite TV show is the Vampire Diaries (Hell-O Damon!)

Please visit her author website:
http://www.cambriahebert.com
Now, if you've been around here at all, you've heard about this release. I've been talking non-stop about it. What can I say? I love me some Heven & Hell. But just in case you've been under a rock ...or maybe on vacation... here's a
series recap with links to all my reviews
. Go on, check it out, I'll wait, but then come back for Cambria's guest post. It's worth it, believe me!
Alright, you back? Good. Let's welcome Cambria now.
Hi, Cambria! **Fan Girl Squeal** Thanks so much for stopping by today!
I am so happy to be here today as part of the Bewitched blog tour that I am practically howling!!!
Oh wait, that's my post….
First, allow me to tell you a bit about my newest release: Bewitched (Heven and Hell #2.5)
Bewitched is the newest novella in my Heven and Hell series and it's a little witchy. So its great timing because we are in October and its almost Halloween! So in celebration of Bewitched release (Oct. 5th) I decided to dedicate this little blog tour to Halloween!!
That brings me to today's post…
I am here to talk to you today about one of my most favorite things…. Werewolves.
I have heard some rumbling that werewolves might not make good dates but I think that they would. I mean what's not to love about a werewolf? Okay, fine I can think of a few things but that's for another day. Mainly though, werewolves would make a great date. Not convinced? Maybe my list will convince you. That's right, I made a list. A top ten. Read this list and just tell me you wouldn't go on at least one date with a werewolf.
Who doesn't love that smile? ------------
The top ten reasons werewolves would be good dates.
1. You wouldn't need a coat even if it was cold outside.
2. You could eat what you want and not worry about looking like a pig at dinner because he would out eat you.
3. If you ran into your cheating ex he could eat him.
4. Your annoying neighbors "outside" cat would stop hanging around because you would smell like dog.
6. He could introduce you to Jacob.
7. If you got tired of walking he could carry you.
8. You would never have to stand in line because he would just growl and people would get out of your way.
9. He wouldn't need a costume for a costume party.
10. He would be very loyal. So that blond across the room, staring at his hottness? She can hit the road.
And that my friend's is why werewolves would make good dates. So would you date a werewolf?
Heck, yay, I'd date a werewolf! Well, that is to say, I'd date a werewolf if I wasn't already married to the most wonderful of mortal men. Since I'm already spoken for, I guess I will stick to just reading about those sexy furballs.
So, onto the dets on Bewitched...
Bewitched (Heven and Hell #2.5)
by Cambria Hebert

For years, I accepted that Heven was more popular than me. I never liked it but I lived with it. I walked in her shadow, I stood by her when no one else would. When I finally thought her spotlight was mine things began to change. She began to change. Now she hardly ever calls me back, she spends all her time with her hot new boyfriend and everyone at school thinks she's back on top. She had it all. But apparently she wants more. She wants Cole – my boyfriend. What's worse is that it looks like she got him. I've had enough and she's going to be sorry. Why?

Because I am bewitched.