Woo Hoo!!!!! Yehaw!!!!! Yay, yay, yay!!!!! However you might say it, I think I've expressed how excited I am that Cambria Hebert is joining us today on her worldwide blog tour to celebrate the upcoming release (December 16th, thank you very much!) of her amazing, completely enthralling novel Masquerade. Now use your imagination and envision me jump up and down and squealing like a tween at a Justin Bieber concert.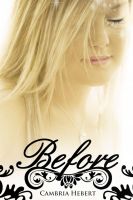 What?!? You say you haven't heard about
Masquerade
? Where have you been? Under a rock?!? Well, check out my previous post for the complete rundown and my review of this amazing debut novel from
Cambria Hebert
. Below that you can also check out the essentials on
Before
, the captivating prequel to
Masquerade
.
So let me introduce you to this fabulous lady.
Cambria Hebert
is an author, a blogger and a latte sipper. She has an irrational fear of chickens (EWWW!) and is obsessed with werewolves. She would rather have coffee (Starbucks please!) than food and her favorite TV show is the Vampire Diaries. You can find her stalking the YA aisles of Barnes and Noble with her iphone glued to her hand. You can also find her online at
http://cambriahebert.com/
.
So onto the interview.....
Welcome, Cambria, I'm thrilled you could be here today.
Rumor has it you have a werewolf obsession. When did this begin? Who is your favorite werewolf?
Yes, I do have a little bit of a problem with the werewolves…. Lol. I really don't know where it began, perhaps with Beauty and the Beast? He he he. I just remember when Twilight came out and I was like why would Bella want a vampire when that hot werewolf is right there?
My favorite werewolf? Hmmmm. That's hard! My absolute, hands down, have dreams about – my husband says is the other man in my life- werewolf is the main character in a werewolf series that I actually wrote. The series is not published (yet). His name is Thadd.
But, if I had to choose from another book I would say, Riley from the Intertwined series, Nick from the Need series and yes, Jacob from Twilight.
Well then, I will need to meet Thadd ASAP, because if Jacob comes second to him, he's gotta be quite yummy.
In

Masquerade Sam's favorite drink is bubble tea, wherever did you hear of it? I know many of your readers now want to try this mysterious drink. Got a recipe?
My readers aren't the only ones that want to try Bubble Tea – I do too! LOL. No, I actually haven't tried it but only because I can't find any Bubble Tea places around here. I DO plan to make it one day soon and try it…. And yes I do have a recipe – there are tons online! (Note: If you make this and it stinks it isn't my fault. LOL!!) Here is a link to a recipe online that shows you step by step what to do:
When its finished it will look like this:
I found out about Bubble Tea when I was researching Portland, ME online for my book. I wanted to add real places into the story and I came across Bubble Mainiea that makes Bubble Tea. I thought to myself… "This would be different than having all my characters hitting up Starbucks all the time." But even still Heven and Kimber hang out at a café. Lol.
There's nothing quite like the smell of a coffee shop. I hear you are a fellow coffee addict. Where's your favorite addiction quenching spot? What's your favorite caf

é drink?
Starbucks!!!! Got to be Starbucks! My favorite latte is the skinny caramel machiatto. I also love the pumpkin spice latte and the salted caramel latte. Sad truth: I would probably drink anything with caramel drizzled over it. Lol.
I had the pleasure of reading your books as part of a group read on Goodreads.
Masquerade
is such a unique and beautiful tale?
What was your inspiration behind such a story
?
I wanted to write a story that people might be able to identify with. I know – how can you identify with a disfigured girl? – I think a lot more than most would think. Have you ever not liked what you see in the mirror? Have you ever felt unsure of yourself? Have you ever had a bad day and just wanted to get through it? I thought that Heven would be a new kind of protagonist. She used to be blond and beautiful and have it all but life changed and she had to change with it. She had to learn to trust herself – accept herself for what she is in the now – not what she wanted to be. I thought of all the people who said they were tired of writing about a perfect girl who gets the perfect guy. So once I decided to write about Heven I thought "how did she get disfigured? What happened to her." The story grew from there.
What is your favorite thing about your book?
Oh that's really hard. I love everything about it. I think maybe I would say that my favorite thing is the twists and turns that the story takes. The characters really grow and change and so does their story… I think that it makes it an unpredictable read at times because I think that people expect something when they are coming in and they get something completely different.
Your book is filled with big moments. There are scenes of great intensity, sadness, action, joy and sweetness. What's your favorite moment in Masquerade (if you can say without giving too much away)?
Really? You want me to pick ONE favorite moment? Impossible. Lol. But there is a favorite that I will tell you about…. The scene where Sam and Heven have their first kiss… it's a little unexpected but completely sweet and I remember getting butterflies in my belly when I wrote it.
What's one thing you really want your reader to take away from reading Masquerade?
I just want them to close the book at the end and say "Wow, that was a great book" or "Wow, that really took me out of my on head." I hope I created characters that were identifiable and memorable as well.
I've always been intrigued by the writing process.

I know some authors like to outline their novels before writing while others prefer to let the story develop as they type. What's your method for developing such engaging stories?
I don't write from an outline. I usually make notes with a pen in a notebook of ideas and maybe a sequence of events. I also keep note of character descriptions, etc. But mostly it's a big mess in my head that I usually write out of order then either work backwards or forwards on filling in the gaps between the scenes. LOL. And I really listen to the characters (i.e. voices in my head) because it's their story I am telling and they know it best.
Which character was hardest to write? Easiest?
Heven was probably the easiest. I felt a connection to her that really helped me get into her head when I was writing her POV. Sam was the hardest. After the first draft of Masquerade was written there were no scenes in Sam's POV. It was only after I met my editor, Amy Eye, that we decided to add in Sam's scenes. When I went to write them in I realized I didn't know him very well…. Sam was a mystery to me! Lol. It took a while but then I got to know him and the scenes started to flow.
I know to be a successful author, it takes lots of support. Who has helped you most in this journey?
There are a lot of people that have helped me. My husband, Shawn, has been there from the beginning. He has always supported me and encouraged me to write.
What advice to other writers do you have?
Don't ever stop writing. Don't ever give up. If you know that writing is "it" for you then keep at it. It isn't a sprint it's a marathon. You have to get comfortable in all stages of the writing process – some of them longer than others - and force yourself through the parts that are uncomfortable. And also, don't take it too seriously. Learn that with every No you get you are getting closer to a yes. If you believe in your writing and your ability to sell your work then other people will too.
Your cover is beautiful. Tell me about its development and designer. How much input did you have? Is the model anyone you know?
Thank you!! Regina Wamba of Mae I Design
is the designer of all 3 of my book covers. She let me have a ton of input on the design. Basically, I told her what I was looking for and she started looking through stock photos. We found one that was similar to what my cover looks like now. But the copyright issues of using a stick photo were a little daunting and no one from the site could give us a definitive answer – so Regina offered to get a model and a make-up artist and take a photo. So she did. I don't know the model – Regina does. I trusted her to find someone for the job because she is very talented. Then she edited the photos and designed the cover…. She did a great job. The back cover of the book is really beautiful too. ;)
Thanks for having me here today! It was fun!
******************************************************
So now for the giveaway...
Cambria has kindly offered to give one free digital copy of
Masquerade
to a lucky winner to be chosen at random on release day, December 16, 2011. All you have to do is: one, be a follower of my blog and two, leave a comment below with your email. That's it. Good luck! In the meanwhile, you should read Cambria's other works (although that won't help you win, it will just keep you entertained while you wait to hear if you are the lucky winner)...